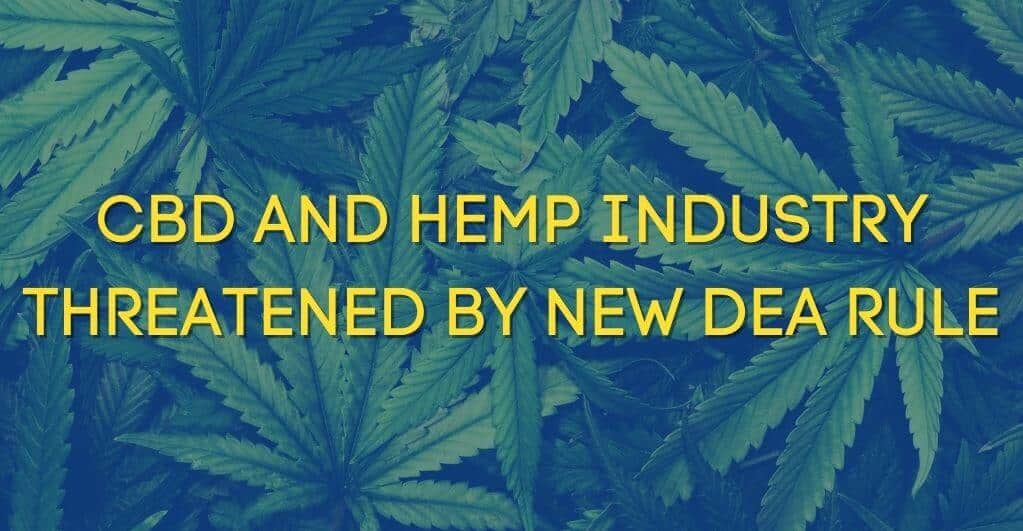 On Monday, the US DEA (Drug Enforcement Administration) published a new "interim final rule" that has threatened the CBD and Hemp industry.
There have been new definitions given to marijuana extract and THC (tetrahydrocannabinol), to modify the existing Controlled Substances Act (CSA). Now, CBD-based drugs approved by the FDA will be removed for scheduled control from CSA. According to the new DEA rule, all hemp extracts or derivatives exceeding 0.3% delta-9 THC will remain a schedule I controlled substances. No matter if the plant (from where it is derived) contains 0.3% or less D9-THC based on the dry weight.
The new DEA rule might cause a practical obstacle for most of the legal manufactures of hemp-derived CBD products because there are incidents when the final form of hemp extract is not yielded, and it is in its raw state. And, it may exceed 0.3% D9-THC concentration at that point. However, the percentage for the final product is always brought back into legal compliance.
According to the new DEA rule, the percentage of THC from a hemp-derived product should remain below 0.3 percent throughout the process, i.e., no exception for those processors who dilute the raw hemp extracts (0.3 percentage or more) to obtain the final product of the requisite level. And, any CBD processor, if found in possession of schedule I substance, could be arrested and prosecuted for the same. Therefore, the whole CBD and hemp industry is threatened by this move of DEA.
DEA Overruling 2018 Farm's Bill
Although DEA has amended the CSA, CBDs derived from hemp plants, don't fall under DEA's interpretation. In 2018's Farm Bill, the authority of every part of hemp plants (seeds, derivatives extracts, and so on) was handed over to the USDA (the U.S. Department of Agriculture). And, now DEA is seemingly intervening in the hemp industry, despite the Farm's Bill.
However, the DEA has ruled out such allegations of aggressive and unwanted intervention. It has stated that undoubtedly, Farm Bill has given authorities of the hemp industry to USDA, but it has not challenged DEA's continuing authority over CBDs that are synthetically-derived. Therefore, it has the right to amend CSA and put new definitions into action.
The DEA has also asked the public to leave comments on its new rule. No matter what, it will stand positive with its new rule to impose immediately on the CBD and hemp industry.